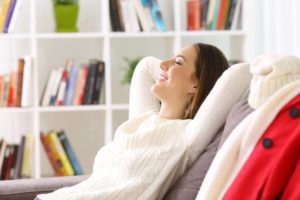 With the cold winter winds bearing down on us, it can be hard for Calgarians to keep the heat in without sending the monthly energy bill through the roof. We're here to tell you that you can stay warm without having to empty out your wallet! Follow these simple tips from your friendly neighbourhood electricians and you'll be toasty all winter long.
Use Your Resources
You have two resources that will keep you from reaching for your thermostat first: your clothes and the sun. Now the first one seems pretty obvious, but it is the most often forgotten. If you're feeling chilly, see if a pair of warm socks or a cozy sweater won't fix it. You'll be surprised at how useful that knitted pullover from Christmas will be! And secondly, just because the sun doesn't come out to play as often doesn't mean you can't use it to your advantage. Simply open the curtains on your south-facing windows during winter days to bring free heat into your home. Likewise, pull down the blinds when the sun goes down to keep the heat inside.
Move the Heat Around
Just because it's winter doesn't mean those ceiling fans should just sit around and collect dust. Turns out that homes with better ventilation and airflow are more energy efficient regardless of month. Most ceiling fans are built to spin counter-clockwise and clockwise, so use this to your advantage. Counter-clockwise will push hot air up, so use this in the summer months. Clockwise motion will keep the heat down in your rooms. In this way, turning your ceiling fan onto its lowest setting can actually keep your rooms warmer.
Put the Heat Where It's Needed
Even with the warmest jackets, biggest windows, and most strategic ceiling fans, you're going to need your furnace in the winter. Fortunately, you don't really need it all the time. Instead of keeping the heat cranked up 24/7, turn it down while you're at work. This is where a programmable thermostat really comes in handy. In rooms that really need a boost, use a space heater or have baseboard heaters installed.
Staying aware of your energy use during the winter saves you money and creates a gentler environmental footprint. So when you keep these tips in mind, everybody wins! If you are curious about other ways to save energy, contact your expert residential electricians at 4 Star Electric today!