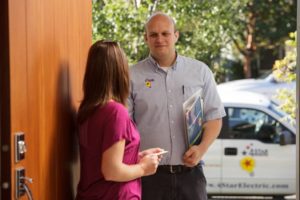 Oftentimes, potential homeowners looking at purchasing a newer home will bypass an electrical inspection out of the belief that there's probably nothing to worry about. Unfortunately, this couldn't be further from the truth. Whether buying a new or used home, it is important to have an electrical inspection done so that you know exactly what you are purchasing. There are three main areas which will reveal the health of any home's electrical system:
Wiring
There are some types of household wiring that should either be avoided have special considerations taken by the new homeowners. Among these are knob and tube wiring, and aluminum wiring. These types of wiring are prone to starting fires, and in some cases insurance companies will not insure the property that has them. Newer homes should be inspected for faulty wiring or rush jobs, which can be just as dangerous.
Electrical Panel
A home's electrical panel is the heart of the entire system. Because of this, connected wires need to be thoroughly inspected for proper installation, plus any wear and tear that could compromise the panel. In some cases, homeowners will add extra circuits that push past the legal limit. While this is fixable by an electrician, as a homebuyer you should be well aware of the costs you may have to pay once moving into a home.
Outlets
A simple visual inspection can reveal damaged, loose, or burnt outlets. But clean outlets do not ensure absolute safety. A thorough inspection by a certified electrician will be able to determine whether or not the outlets are all safely grounded. Outlets that are not grounded need to be changed immediately, or they run a high risk of causing an electrical fire.
Call in the Experts
For all these reasons, it is a good idea to have trained electricians come take a look at the home in addition to a regular home inspection. Certified electrical specialists will be able to evaluate the home and reveal any existing or potential issues hiding within the walls. If you are living in Calgary or the greater Calgary area, contact the experts at 4-Star Electric to help ensure that your dream home doesn't turn into a nightmare once you move in.