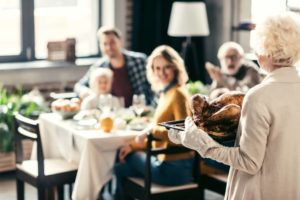 Here in Alberta, we love our Turkey Day. This is when we brave the cold so that we can come together with our loved ones and celebrate over a feast. There's just something about mashed potatoes with cranberry sauce that warms our hearts and helps us appreciate the company we keep. However, all of this merrymaking can lead to some electrical neglect, making it easier for electrical mishaps and emergencies to occur. So we've put together a list of tips to keep your family safe this Thanksgiving:
Don't abandon your cooking! Turkey takes a long time to cook, but that doesn't mean you should be fitting in some early Christmas shopping while the bird is in the oven. Furthermore, stick around the kitchen when cooking anything.
Keep an eye on the kids. Holidays are especially exciting for kids. Just make sure that they aren't getting into hot foods or playing with sharp utensils.
Test your smoke alarms. Before everyone arrives, test all of the smoke alarms by pushing the "test" button. In case an emergency does occur, you want your loved ones to have as much time as they can to evacuate.
Install GFCIs. These are electrical safety devices designed to trip circuits when ground faults or leakage currents occur. More people occupying your home means that more electricity is being used and these things are more likely to happen. We can set you up.
Keep it clean. Ensure that your stovetop and oven are free of grease and dust. That goes for the exhaust hood and duct as well. This will reduce your risk of fire in this area.
Keep it clear. A messy floor can cause some serious tripping hazards. Toys, backpacks, and purses should be designated to one area.
Most importantly, enjoy the holiday! Ensuring that your electrical maintenance is done before company floods your home for the holidays is the best way to prevent electrical emergencies from happening.
Don't let a preventable electrical emergency put your holiday out of commission. Follow these simple tips and you'll be able to relax and enjoy the festivities! From all of us here at 4-Star Electric Ltd., have a very happy and safe Thanksgiving weekend!