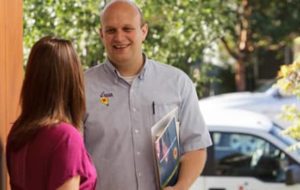 When it comes to booking an electrician it seems like the options are endless. There are many different electrical contractors out there and I am going to tell you how you can have a certified electrician at your door ASAP.
Where to find us
You can find us at www.4starelectric.com  or call  Ryanne or Whitney at 403-248-0037. We would be happy to book you an appointment.
Whitney has been with 4-Star Electric since 2014 and is dedicated to providing our customers with an extraordinary experience.
We typically operate Monday to Friday 7:30 am to 4:30 pm. We like to book our appointments either in the morning 8:00 am to 8:30 am or afternoon arrival between 12:00 pm and 2:00 pm.  Our electricians will give you a call when they are on route to you home.
All we need to book an appointment for you is your name, address, phone number and a little bit about what type of electrical needs you have.
You can also reach us by email at [email protected]
We also give you a call the day before your appointment to remind you of the date and time.
What type of work do we do?
We specialise in residential and commercial electrical, no job is too big or too small.
We are also able to offer our customers 24/7 availability. For example if you have a power outage at 2 am on a Saturday you can call us and we can dispatch an electrician to you home within 1 hour. Our dispatch fee for emergency dispatch service is $189.
Why we are your trusted electrician
All of our electricians are licensed, insured, drug tested and background checked.
Once we arrive at your home our electrician will go over the job that needs to be done with you. They will then provide you with an exact quote right to the penny. Upon your approval of the quote, they can begin work right away because they will arrive with a fully stocked truck.
Read more about what our happy customers are saying on our website.
Where we serve
We are dedicated to proving electrical service to Calgary and surrounding areas including but certainly not limited to Airdrie, Cochrane, Okotoks, Chestermere, Langdon, Strathmore, Crossfield, Black Diamond, High River and Turner Valley and many more.
Our Guarantee
We don't have an hourly rate like most companies, we just have a small dispatch fee of $59.
We guarantee all of our parts and service for 3 years and we have a 100% satisfaction guarantee that states we do not accept payment until you are 100% happy with the agreed work.
Our company is family owned and operated and we have been in business for more than 28 years.
We currently have an A+ rating with the better business bureau and we are the 2017 winners of the Consumer Choice Award – 4 Years in a Row!