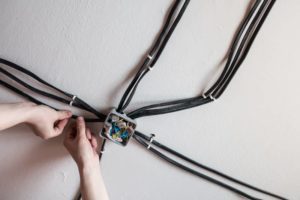 The New Year is finally here! For many of us this means living healthier, happier, and altogether taking advantage of this new calendar year. While you may be focused on your eating patterns and your workout plans, we ask you to consider a resolution that will be gentle on your wallet in the long run and increase safety for you and your family. Care of your electrical system doesn't stop at installation, it means proper maintenance and repair throughout your time in your home. Here are four important electrical components to consider as we sail into 2019:
Smoke Detectors
Fires can happen at any time of the year, so a properly functioning smoke detector is a must for all homeowners. If your smoke detectors are older than ten years old or making funny noises in the night, it's time to get them checked out by the professionals.
Sockets Near Water
Water and electricity are a dangerous combination, but it's unrealistic to keep outlets out of bathrooms and kitchens. So how do you keep your family safe when using sockets near water? Have GFCIs or ground fault circuit interrupters installed in those electrical outlets that pose a high risk of being splashed with water. These devices will ground out the socket in case of exposure to water.
Surge Protectors
Calgarians are not unfamiliar with power surges, storms and floods can cause irreparable damage to electrical systems. Surge protectors offset this risk by protecting your home against power surges. These devices are inexpensive compared to the considerable costs incurred when homeowners need to replace their appliances and have their electrical system overhauled.
Signs of Faulty Wiring
Both old and newer homes can fall victim to faulty wiring. Constantly blown fuses, warm switches, and flickering lights are all signs that your electrical system may need an upgrade. Faulty wiring isn't just inconvenient, it poses a risk of electrical fire and electrocution. Have professional electricians take a look at your home, together you can determine a strategy to bring your home back up to the proper safety standards.
Don't wait for an emergency before you take a good look at your electrical system. Electrical safety isn't rocket science, but it is a science. Your system requires the proper care and maintenance by electrical professionals in order to remain efficient and safe. Want an easy way to remember your electrical maintenance? Sign up for a membership through 4 Star Electric. Our membership programs are our promise to keep your electrical system up-to-date and affordable. Contact us today to get started!