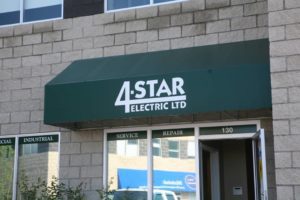 There are a lot of electricians out there, so why choose 4 Star Electric Ltd. as your electrical contractor? Unlike other companies, we hold family and community at the core of our business. Ever since we opened our doors we have strived to serve Calgary and area just like we would our own flesh and blood.
From our family to yours
In the beginning, we started off small. Our founder, John Vannus, lead the way with his family ever on his mind. In fact, the name "4-Stars" came from the fact that John had four sons. The stars of his life. Fast forward to today and two of those sons having taken on the mantle and are managing the business on their own.  
What makes family businesses different
Small family businesses are very different operations than your run-of-the-mill corporations. For us, our people are our lifeline. In that way, no one is expendable or replaceable. We see everyone that walks in our doors as our family, and we treat them as such! That means the success of our business and our community is tied inexplicably. For us and many other family-run companies, we look beyond our bottom line.
The importance of family values
Our family values are instrumental in creating a strong sense of identity our business. Community, accountability, and hard work are just a few of the qualities that we take immense pride in. These values play an important part in our business strategy, as our work is more than just a paycheque. Family businesses have proven to be incredibly productive due to the passion and drive of it's participants.
Let our family bring ease of mind and electrical safety to yours. Contact us today to learn for yourself why our community calls on us, 4 Star Electric Ltd., before they call on our corporate competitors!