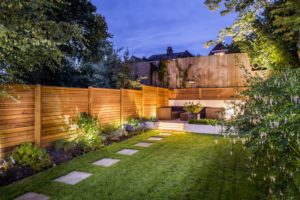 If your favourite time of year is barbeque season, you probably spend a lot of time in your backyard. Or at least intend to. Many homeowners want to create their own summer oasis, but they just aren't sure how to get started. We're here to tell you that backyard improvements don't have to be complicated. It just starts with a little bit of lighting.
Why Update Your Lighting?
Lighting is one of the simplest and most cost-effective ways of improving the look and feel of your backyard. Proper lighting can highlight the natural beauty already present while also illuminating the darker spaces around your home. In addition, entertaining will become a breeze. You'll never need to shut down the party just because the sun goes down.
Make a Plan
The opportunities for backyard lighting are endless, that's why it's so important to do your research and plan out exactly what you want done. Once you have an idea, an electrical contractor can sit down with you and help you figure out how to proceed with your outdoor lighting project.
Personalize Your Space
Backyard improvements can be a fun way to flex your creative muscles. Explore all these different kinds of lighting:
Wall & Ceiling Lights
Post Lighting
Walkway Lighting
Deck Lighting
Spot Lights
Make Safety Look Good
Your backyard lighting won't just look pretty, it can offer some wonderful safety and security features as well. Path lighting and flood lights can offer illumination in areas that can get quite dark, while also acting as an effective deterrent for any strangers trying to take a second look at your yard. In addition to this, these lights keep walkways lit so that you and your guests will be able to walk around your property without tripping or falling over unseen hazards.
The cost of this type of renovation is generally much less expensive than nearly any other home improvement. Your exact spending will be determined by your vision for the space and the number of fixtures you intend to use. To help estimate costs and needs, make sure to have a certified electrician from 4-Star Electric come take a look at your backyard during the beginning phases of your project. Let's get started building your summer oasis!