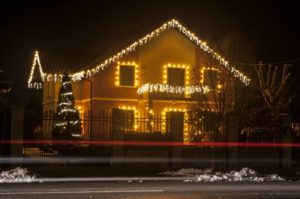 One of our favourite times of the year is Christmas, and what says Christmas more than bright, twinkling lights! If you love to decorate your home for all your neighbours to see, you know how much work it is to climb up on that ladder and string the lights. Here are some tips to make your job a little easier and your display a little safer for the season:
Choose the Right Lights for the Job
Light strings and other electrical decor are rated for indoor or outdoor use. Those indoor-only fairy lights just aren't built to stand up to our snowstorms! Choose lights that are rated for outdoor use, read the package instructions, and never exceed the recommended wattage.
Make a List, and Check it Twice
Just as Saint Nick is making sure his "i"s are dotted and his "t"s are crossed before setting out on his sleigh, you should be making a game plan, too. Measure out the areas you want to place the lights and draw up a sketch of where you want everything to go. Winging it can be fun to an extent, but it could also mean a lot of unnecessary trips to the store or misconnections.
Don't Go In Alone
Stringing the lights doesn't require an entire team, but you should have a spotter at the very least. Snow can be deceptively slippery, and you don't want to catch a bad fall right before the holidays. Enlist your kids, your spouse, or even your neighbour to keep you company while you're swinging from the eavestroughs. You could even provide them with a post-decor beverage if they did well!
Use GFCIs
Even with proper installation, those beautiful lights can eat up a lot of electricity and cause a surge. Avoid this by using ground fault circuit interrupter outlets outside. These are the receptacles with the "test" and "reset" buttons on them.
Seal Your Connections
Once everything has been put into its place, go the extra step for safety and seal each connection with duct or electrical tape. This will help keep everything dry and reduce the risk of blown fuses.
After you've finished decking the halls, make sure to step back and appreciate what you've created. Whether your style is minimalist or flashy, everyone can have fun with their Christmas lights! From all of us here at 4-Star Electric, we wish you and yours a safe and loving Christmas season!