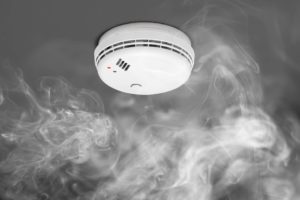 Smoke and carbon monoxide detectors are important devices which help keep you, your family and your home safe. Period. Its purpose is to detect any trace of harmful smoke or CO and alarm you (yes, that abrupt and awakening noise) at any given time of the day. A recent study found that many times, fatalities caused by fire have occurred early in the morning or late at night, when most of us are in deep sleep. In fact, it's the poisonous gases that stem from the fire, like carbon monoxide which in a short time frame, will affect a person's ability to focus, making one confused and disoriented.
House fires rapidly grow within minutes. It's imperative that all homes have several, properly installed and working smoke and CO detectors. It saves lives and it's the law!
Keep safe with these recommendations:
Ensure you have at least one smoke and CO detector on every floor of your home and be sure they are placed in an appropriate spot.
Have your smoke and CO detectors "hard-wired" by a licensed electrician. This will allow your detectors to operate should it detect smoke or gas in the event your batteries have expired or have died. We still recommend you place batteries into all your devices as secondary back-up (and change them yearly as a precaution).
Clean your devices by simply vacuuming or dusting them regularly. Keeping the sensors clean allows for better detection.
Test your devices on a monthly basis. Press the test button to ensure power is still running to your alarm system. You can also test to ensure it will go off when it detects smoke by blowing a candle out close to it allowing its smoke to hit the alarm. The alarm should within 20 seconds after which, you simply fan the smoke away to turn off the alarm.
If you need to repair, replace or install any smoke and carbon monoxide detectors in your home, please give us a call. Our qualified electricians conduct a very thorough fire alarm safety check and will ensure your alarm is installed and operating correctly.
We are here to help, for your protection and peace of mind.