As Canadian homes and businesses continue to take on an increased number of electrical needs, business owners and homeowners must consider if their current electrical panel should be upgraded. Becoming a member with 4-Star Electric is a certain way to guarantee that your needs concerning electrical panels are taken care of.
What Is an Electrical Panel?
An electrical panel is a central hub for powering your home or business. It is the load center of your home or business that you go to when the power shuts down and you need to turn it back on, and it is also the same place you go to when you're working near wiring and need to make sure that the power is completely off. It is an integral part of your home's electrical capabilities.
Types of Electrical Panels
At 4-Star Electric, we are provided panels from Eaton, a global leader in electrical power management solutions. They use two different levels of panels based on the buss material that distributes power to your circuit breakers.
Copper Buss
Copper is one of the most common metals used in electrical applications. Eaton offers a copper buss for a selection of their different electrical panels. Generally, copper has better conductivity and can withstand more stress and higher temperatures than its aluminum counterparts, though the use of aluminum alloys can help level that comparison. Copper has a long lifespan, and it naturally oxidizes, which causes the thin layer on the surface to remain conductive, unlike aluminum.
Aluminum Buss
Aluminum alloys have grown in popularity over the last few decades for electrical panels. Aluminum is an easy to manipulate and lightweight metal. It's also a common material that remains cost-effective in competitive markets. The lightness and maneuverability of aluminum allows for customization, heat dissipation optimizations, and efficient installations.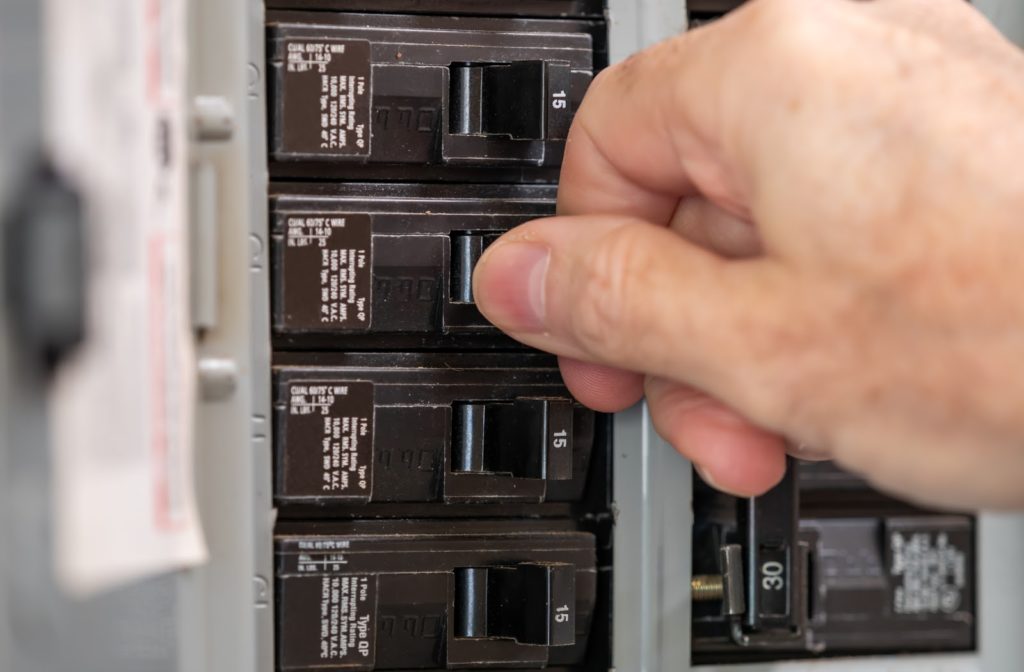 Does the Size of Your Panel Matter?
In short: yes, size does matter. The size of your panel will depend on the type and amount of appliances and equipment you use at your home or business, and the required amperage that your panel will need to perform at.
Identifying Equipment
Homes that use a combination of natural gas and electric power will not have the same needs as those that depend almost entirely on electricity. Electric heating, hot water tanks, dryers, and central AC are all systems that create a huge demand on your electrical system. Appliances like computers and televisions will not draw out the same amount of power, so you won't have to worry about upgrading your panel if you're simply putting a TV in your home.
Considering the Amperage
The price of an electrical panel may make it tempting to lean towards the minimum requirements of your home or business, but it is important to keep in mind how electronic technology is growing rapidly as an energy source in our day-to-day lives. You may still be using a gas-powered vehicle right now, but as the Canadian government makes a push for cleaner energy, you'll want to consider how plugging in your car a decade from now will affect your home's electrical system. Here are some guidelines when choosing a service:
General Reasons to Upgrade Your Electrical Panel
You need more room in your panel to add circuits.
Discoloured wires that have turned brown or black.
Breakers not tripping under a fault condition.
Wires or breakers begin burning, or you can smell something burning coming from your panel.
Burning, corrosion, or discolouring of bus bars (the central part of your panel where the breakers plug in).
Smoke coming out of your panel.
Any arcing or sparking.
Any overheating (the breakers or panel board are hot to touch).
You can hear sizzling sounds coming from your panel.
There is no power in parts or all of your building.
You have an unsafe Federal Pacific Electric (FPE) panel, which should be replaced as soon as possible.
Your panel is older than the manufacturer's recommended lifespan. This is usually about 25 years for most panels.
If your panel is outdated and no longer manufactured. This includes FPE, Zinsco, Nova, Sylvania, Commander, Bull Dog, ITE, CEB, and Crouse Hinds. Other panels that may be outdated but are still being manufactured include those made by Cutler Hammer, Siemens, Square D, and GE (General Electric).
Your panel is showing signs of imminent failure or is already failing frequently.
You notice flickering or dimming lights throughout your home or business.
Appliances and electronics are not lasting as long as they should.
Contact Your Local Electrician For Electrical Panel Help
If you are in need of help for your electrical panel please contact your local electrician so that they can best help you today.