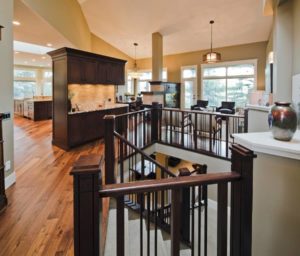 Changing up your light fixtures can be one of the simplest tasks which results in the biggest payoff. Not only will new fixtures illuminate the space, but they add an extra layer of design to complement your already beautiful home. The reality is that your home is full of fixtures, so why not get creative with them? A good lighting design will combine a number of different light sources. The fun part is deciding what should go where. Here are some of our favourite unique lighting solutions:
Bedroom
Chandelier. While chandeliers are often known for lighting large dining areas and living rooms, don't underestimate their value in the bedroom. Get rid of that boring ceiling fan and switch it out for a wooden or brass chandelier to show off your style.
Funky Lamps. Bedside lighting is crucial in any bedroom. Choose lamps that act as statement pieces. If you're feeling particularly adventurous, play around with mismatched lamps to give your bedroom a unique flair.
Pendant Lights. If you want to save space on your nightstands, invest in a pair of hanging pendant lights. These will give a sleek, modern look to your bedroom while freeing up some much needed surface area.
Kitchen
Track Lighting. This type of lighting is great to have in the kitchen because it is fully adjustable. Swivel the lights in your desired direction to achieve ambient or accent lighting as per your needs.
Bar/Strip Lights. LED or fluorescent bar and strip lights are sure to add a cool, ambient effect to your kitchen. Depending on your set-up, it may even be possible to have them recessed into your ceiling and along the walls for a truly one-of-a-kind aesthetic.
Industrial Lighting. If you love the look of exposed brick and metal fixtures, this one's for you! You can achieve this by using metal tubes, bare bulbs, or even repurposed fixtures.
Living Room
Wall Sconces. These classic fixtures add another level of light within your design. They save space and act as gorgeous accent pieces.
Recessed Lighting. Large rooms need a lot of light to fill, and that's where recessed lighting comes in. These lights take up no space at all while still providing the space with all the illumination it needs. Dimmers allow you to change the atmosphere in the room with a flick of your wrist.
Firelight. Whether you have a wood-burning fireplace or an electric one, there's nothing more romantic than firelight. A fireplace can not only create warmth and illumination, but it will add an indescribably cozy feel to the room.
Creating an expressive lighting design is a great way to improve your home. Make sure to consider contacting an electrical expert for more complex plans. But most importantly, have fun!