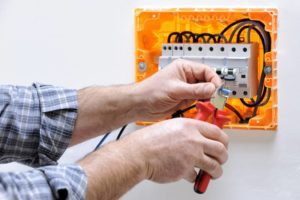 Whether you are purchasing a new home or just looking to update your own, you'll need to decide the size of your electrical panel. Just because the panel is tucked away out of sight, doesn't mean that it should be out of mind. That little device directly affects the quality of life you experience inside your home. You'll need to consider a few components before choosing the level of service for your home.
Identify Your Equipment
Homes that utilize a combination of natural gas and electric power will not have the same needs as those that depend almost entirely on electricity. Electric heating, hot water tanks, dryers, and central AC are all systems that create a huge demand on your electrical system. Computers and televisions don't draw nearly the same amount of power, so don't worry about needing to upgrade your panel if you're simply putting a T.V. in the downstairs rumpus room.
Consider the Amperage
The price tag may make it tempting to sway towards minimum requirements, but keep in mind how electronic technology is growing as an energy source in our day-to-day lives. You may be gassing up your car now, but as the Canadian government makes a push for cleaner energy, you'll want to consider how plugging in your car a decade from now will affect your home's electrical system. Here are some general guidelines when choosing a service:
Panels of 100 amps may service a range, water heater, general lighting, and receptacle outlets. This is recommended for homes with gas heating and appliances.
Panels of 200 amps will cover all the same as above, while also powering an electric heating system.
In conclusion, it is clear that size does matter when it comes to your electrical panel. That doesn't necessarily mean that bigger is better, but you will need to take all of the above factors into consideration. If your home's electrical panel isn't big enough to maintain your needs, don't risk an electrical failure, contact the experts at 4 Star Electric today!