Purchasing a new home can be an exciting, yet stressful process! It's challenging to remain practical about safety and budget constraints when you've fallen in love with what appears to be the perfect place.
At 4-Star Electric, we recommend looking past the aesthetics of your possible new home, and diving right into details about the property's electrical system.
Making a thorough assessment of any potential electrical problems before purchasing can save you a considerable amount of time, money and headaches.
Keep an Eye Out
When touring a potential new home, consider this list of common warning signs and electrical problems before making an offer:
Hot Outlets
Hot outlets can indicate a severe issue with the wiring in a home. Electrical appliances may generate heat while they are operating, but electrical outlets should never be hot.
Flickering Lights
Despite what every Hollywood movie tells you, flickering lights in your dream house don't actually mean that it's haunted. (Sorry to disappoint!)
A visit from your neighbourhood electrician may not be as exciting as one from the Ghostbusters, but flickering lights can indicate a loose electrical connection.
The fix is typically straightforward in a single light fixture, but in multiple fixtures or rooms, the issue could be deeper in the circuit.
Not Enough Outlets
Older homes typically have fewer available sockets, resulting in the overuse of extension cords. Temporary extension cords are okay, but issues can arise if they are permanently fixed in the same socket, as most older homes are not equipped to handle today's energy demands.
An experienced electrician can install additional breakers and outlets for all your electricity needs.
Ungrounded Outlets
Usually found in older homes, ungrounded outlets can lead to electric shocks or fires. Ungrounded outlets need to be upgraded. Contact a skilled electrician to have ungrounded outlets replaced before moving day.
Outdated Breaker Boxes
Circuit breakers help prevent home electrical fires and other issues by automatically shutting down power when the system becomes overloaded. Older properties may have outdated circuit breakers that cannot support the electrical needs of your modern home.
Disorderly Breaker Boxes
A disorderly breaker box may have a confusing mess of tangled wires or unlabeled circuits, hinting at unsafe wiring throughout the home. Homes with disorderly breaker boxes may require a wiring overhaul.
Double Tapped Breakers
If multiple wires are attached to a single circuit breaker, it's referred to as a double tapped breaker. Circuit breakers should only have a single wire, and more wires can result in loose wires or other dangers like an electrical fire.
If you are considering a home with double tapped breakers, contact an electrician to add more breakers to your breaker box.
Missing Outlet Covers
Outlet covers are designed to protect wires from dust and debris, and keep you and your family safe from electric shocks. Missing outlet covers can be dangerous for pets and small children, and they should be replaced before you move into a new home.
Cracked or Damaged Outlets & Switches
Outlets and switches with cracks or exposed wires can be a sign of wiring problems within the home, especially if they are blackened or have a burnt odour (Repeat after us: Burning smells are very bad).
Damaged outlets and switches may indicate sparking or short-circuiting.
If you spot signs of damage while touring a potential property, it's best to contact an electrician for a professional inspection before making an offer.
Outdated Wiring
When touring a home, let 4-Star Electric's CALL acronym help you determine if there are issues with the wiring :
Check: Check for physical damage on wires and wire covers
Ask: Ask about blown fuses and tripped breakers
Look: Look for signs of sparking and short circuits
Listen: Listen for buzzing sounds from outlets
All of these warning signs point to outdated wiring throughout the property. Older homes, in particular, could still contain aluminum or knob and tube wiring, which easily come loose or get damaged, creating a fire hazard.
Contact a knowledgeable electrician if the wiring in your new home needs to be changed.
Trees
Homes in more established neighbourhoods often have the luxury of mature, tall trees. Although these trees are beautiful to look at, they can be hazardous to electrical wires surrounding the property.
Large trees can put pressure on wires, leading to a risk of snaps and broken connections, resulting in power outages, and a chance of shocks and fires.
Pay close attention to the surrounding trees and their proximity to electrical wires when touring a potential property.
YouTube-Trained Electricians
Okay, this one sounds funny, but it's actually quite serious. Many homeowners attempt DIY electrical fixes in their homes without consulting a professional electrician, which can be very dangerous
Incorrect wiring can cause electric shocks and short-circuits. If you're touring a home and suspect that it has been wired by an amateur, contact a professional electrician for an inspection.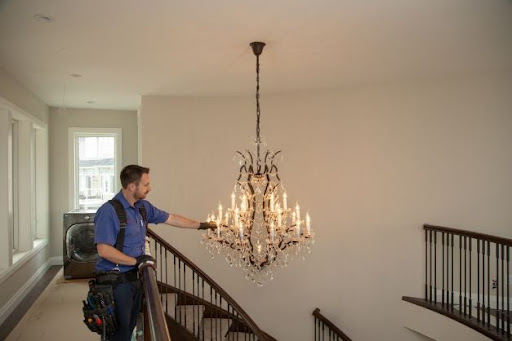 Electrical inspections
An electrical inspection involves an in-depth look for electrical problems that could impact your family's safety and the house's integrity. Electricians will inspect for:
Shoddy DIY work
Errors made by the home builders
Outdated wiring
Issues with fuses and breakers
Worn electrical component
Hazards
Conditions of wall and switch outlets
Ungrounded outlets
When purchasing a new home, you may want to consider a professional electrical inspection along with your standard home inspection.
Call Your 4-Star Family
Electrical issues can put a damper on your enjoyment of a new home, and we want you to have complete peace of mind in your fresh new space.
If you have concerns about faults in the wiring system of a home you're considering, contact our team at 4-Star Electric for a consultation or inspection. We can help you make a well-informed decision!