All fire is dangerous—but electrical fires are particularly hazardous because they can start unpredictably and spread quickly. Regular electrical inspections of your home can help identify potential causes for electrical fires so that you can prevent them from happening—but if one does break out, you still need to know what to do.
While your first instinct might be to put out the fire with whatever's closest to hand, you should never douse an electrical fire in water. Below, our team of experienced professional electricians at 4-Star Electric explains why this method doesn't work for electrical fires, and gives you step-by-step instructions on what to do instead.
Why You Can't Put Water on Electrical Fires
Putting water on an electrical fire is dangerous for several reasons:
Water Conducts Electricity: When water is poured onto an electrical fire, it can act as a conductor. This could cause the electricity to travel through the water and electrocute anyone in contact with it. If there are live wires or active electrical sources nearby, the water can also energize them, creating additional risks.
Potential for Spread: Pouring water on an electrical fire can spread the fire instead of extinguishing it. The water can scatter the burning materials or cause short-circuits that ignite new fires.
Water Damage: Introducing water into an area with electrical devices and outlets can result in further damage to equipment, increasing repair costs and posing future safety risks if not addressed.
Potential Steam Explosion: In certain conditions, rapidly converting water to steam can result in a small explosion, causing the fire to spread or splatter burning material.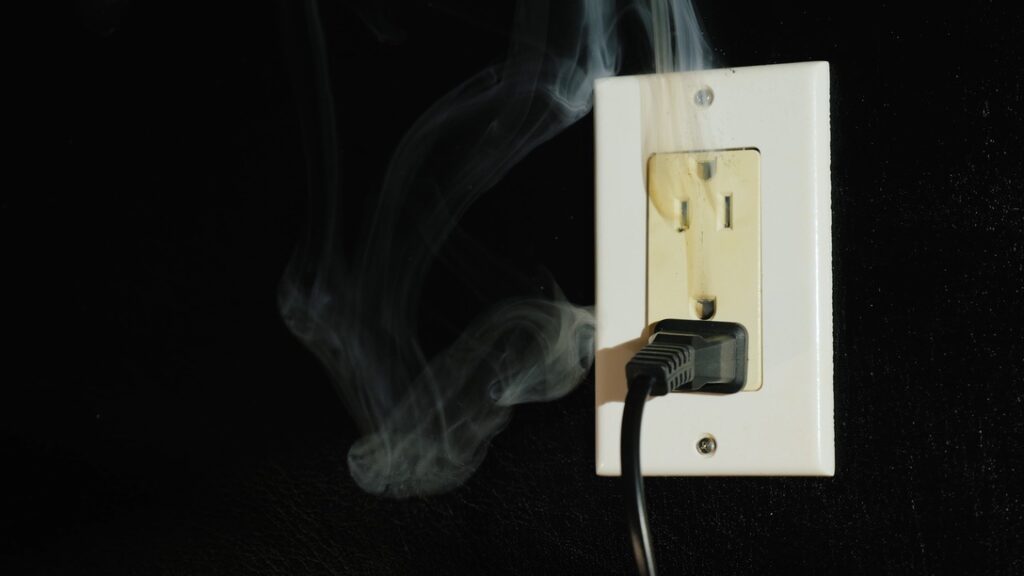 5 Steps for Putting Out Electrical Fires
Disclaimer: Fighting any kind of fire carries an inherent risk to your health and safety. Do not undertake to put out an electrical fire yourself unless you are confident in your abilities to do so, equipped properly for the task, and willing to face these risks. In many cases, it's simply better to evacuate (see step 4) and call the emergency services.
1. Disconnect the Power Source
Remain calm and ensure your safety first.
Locate your home's main circuit breaker, often found in basements, utility rooms, or garages.
Turn off the main breaker to cut power to your home, removing the fire's electrical fuel source.
2. Identify & Use the Appropriate Fire Extinguisher:
Use a Class C fire extinguisher, specifically designed for electrical fires.
Apply the PASS method:

Pull the pin, breaking the tamper seal.
Aim the nozzle low, pointing it at the base of the fire.
Squeeze the handle to unleash the extinguishing agent.
Sweep the nozzle from side to side at the fire's base until it's extinguished.
3. Use Alternatives if an Extinguisher Isn't On Hand
For minor fires, sprinkle baking soda. It can smother the fire by releasing carbon dioxide.
Use a fire blanket to suffocate smaller fires, covering them completely.
Note: We do not recommend these tactics unless A) the electrical fire is extremely small, and B) you do not have access to a Class-C fire extinguisher. Even in these cases, it may be better to evacuate the home and call for emergency assistance.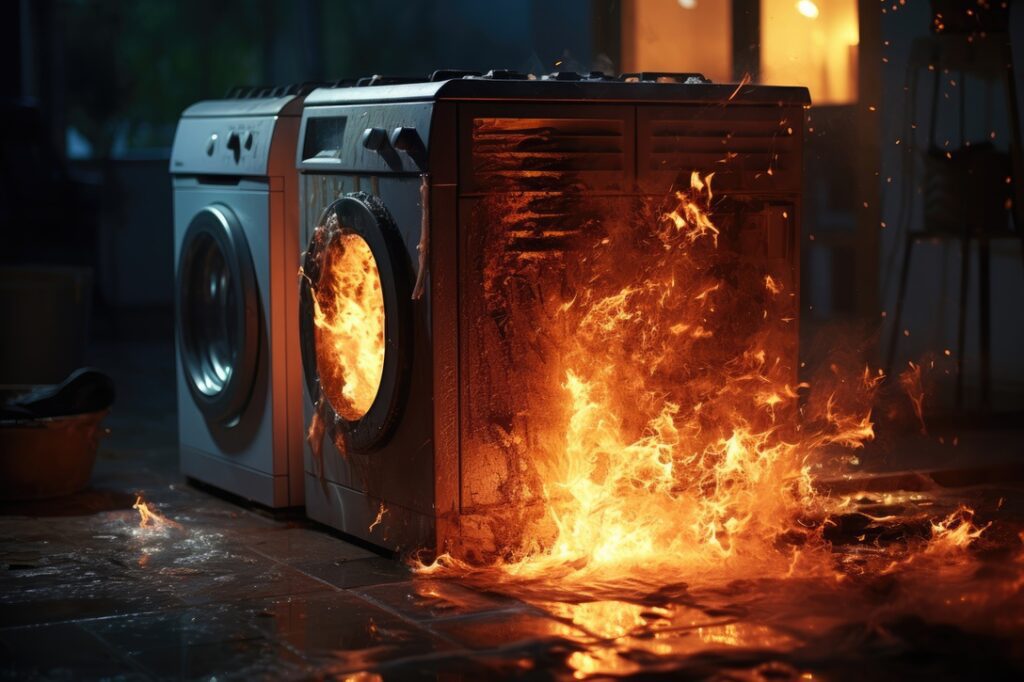 4. Evacuate If Necessary
If the fire continues to grow or becomes too large, don't risk fighting it. Instead:
Promptly evacuate everyone from the premises.
Call the fire department or 911 once you're safely outside.
5. Prevent Future Electrical Fires
Regularly inspect wiring and electrical systems in your home.
Use electrical devices properly, avoiding overloading or using damaged cords.
Work with our professional electricians to proactively address potential hazards.
The right knowledge and tools can make a significant difference when faced with an electrical fire. Remember, your safety and the safety of those around you should always be the top priority. Call 4-Star Electric for reliable professional help that can keep your home's electrical infrastructure safe, and never hesitate to call emergency services in the event of an electrical fire. To learn more, browse the FAQ below.
Frequently Asked Questions about Electrical Fires
What are the main causes of electrical fires?
Electrical fires originate from an electrical source and can be fueled by overloaded circuits, faulty wiring, or malfunctioning devices. They are especially hazardous because they can spread quickly and can start with little to no warning.
If I can't put electrical fires out with water, can I use other liquids?
No, most liquids can conduct electricity, and introducing them can worsen the situation. Always use a Class C fire extinguisher or another recommended method for electrical fires.
What signs indicate a potential electrical fire risk in my home?
The following can all be indicators of potential electrical fire hazards:
Frequently tripped breakers
Flickering lights
Unusual burning smells
Warm outlets
Frayed or chewed cords (in houses with children, pets, or pests)
How often should I inspect my home's electrical system to prevent fires?
We recommend having our professional electricians inspect your home's electrical system at least once a year or anytime you notice warning signs.
Can regular fire alarms detect electrical fires?
Standard smoke detectors can detect smoke from electrical fires, but it's also beneficial to install arc-fault circuit interrupters (AFCIs) in your home. AFCIs can detect dangerous electrical changes and shut off the circuit, preventing potential fires.
Should I always try to fight an electrical fire before evacuating?
No, your safety and the safety of those around you should always be the top priority. If you feel threatened or the fire seems uncontrollable, it's crucial to evacuate and call emergency services immediately.
What should I do after an electrical fire has been extinguished?
A8: After ensuring everyone's safety and the fire is out, it's essential to address the root cause. Contact us to have a professional electrician inspect the area, and then identify and fix the issue that caused the fire.