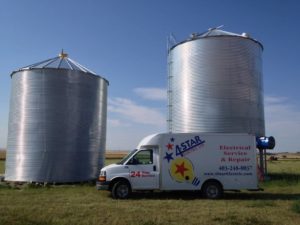 Alberta may be a big province, but everywhere within it holds onto those small town values. Hard work, community, and integrity seem to run through our veins regardless of what region we call home. That's why we love doing electrical contract work all over Southern Alberta. While much of our work centers around Calgary, we service more than just Alberta's southern metropolitan. In fact, we spend a lot of time in the surrounding communities of Strathmore, Langdon, and Chestermere.
Strathmore
Just over 30 minutes east of Calgary lies the bustling little town of Strathmore. While it has a small population, this community boasts an incredible sense of kinship. While most electrical contractors refuse to go a few more miles for their customers, we don't let that type of distance stop us. We still offer on-time, efficient service to our neighbours in Strathmore. Who knows, we may even stop into the Family Centre Arena for a game of hockey every once in a while!
Langdon
This hamlet is one of our most popular service areas. From residential to commercial buildings, we have your needs covered. As professionals, we know how important it is to take the time to complete our jobs at a high standard. We may want to hit up the Boulder Creek Golf Course, but we assure you we will wait until you are completely satisfied with your service! We pride ourselves on giving our customers full attention and care. That's how we ensure our 100% guarantee!
Chestermere
Probably one of the newest municipalities bordering Calgary, incorporated in 1977, Chestermere certainly wows visitors and residents alike with it's charming lakeside views. That's one of the reasons we absolutely love making the trip east to service the homes and shops there. When we get to work, we adhere to the highest level of customer service. Courtesy and integrity are our bread and butter, especially when working in small towns like Chestermere.
The above towns are only a few examples of our service areas. For a more complete list, click here. No matter where we are, we will always offer top notch service to our customers. If you thought you were too far out to take advantage of our excellent electrical work, you may be wrong! Contact us today to get started!