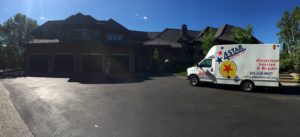 This year marks 30 years of being in business. That's 30 years of delivering on-time, efficient customer service to Calgary and surrounding areas. Over the years, our commitment to excellence has been recognized in our beloved community time and time again. We are no strangers to accolades when it comes to our business.
Recognizing Excellence
The Consumer Choice Award is a particularly prestigious endowment. It was established in 1987 with the sole purpose of recognizing business excellence in small and medium sized businesses. They use statistically supported independent market research to determine qualifying factors such as brand reputation, customer satisfaction and business excellence. In this way, award recipients aren't selected by a panel but rather by the consumer.
A Cut Above the Rest
Through our hard work, dedication, and high standards we have been honoured with the Consumer Choice Award as the best electrical contractor in Calgary and Southern Alberta. In fact, Consumer Choice Award dubs us as "a business to believe in." Check out what they have to say about us here. This award is a signal to consumers that we provide the best possible service to our community and will continue to do so for as long as we can!
There Can Be Only One
Unlike other awards, Consumer Choice Award only names one winner in each category. This means that the recipient had to beat out every single one of its competitors in the qualifying rounds. The CCA symbol sets these winners apart, as consumers can feel comfortable making informed decisions based on those results. By having such an esteemed accolade, we know our efforts towards excellence have been validated and we can continue to do our best work.
When it comes to having your business, we strive to meet your high standards. We want to thank all of our customers who have made our growth possible and shared their positive experiences online and to their neighbours. For excellent electrical service that everyone can agree on, contact the experts at 4-Star Electric Ltd today!