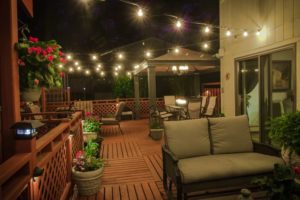 One of the best parts of the warmer weather is being able to enjoy it outdoors. If you're anything like us, you're already chomping at the bit when it comes to cleaning up the backyard and getting it ready for the inevitable summer barbeque parties. Maybe you're planning a complete renovation, or maybe you're just looking to give the space a facelift. Either way, you'll want to consider how lighting can help enhance your space! In this article, we are going to discuss how to get your deck ready for spring.
Prep the Space
Bring out the power washer and a few garbage bags, this may take a while. You're going to want to comb through every inch of your backyard, getting rid of the rubbish that's been sitting under the snow all winter. Rake the lawn, clean off the deck, and take a good look at what you're working with. Be sure to check for any mold or mildew that may have formed in the interim. Not only are these build-ups very unhealthy, but they can compromise the materials that they are growing on.
Envision the Finished Product
What do you want to do with the deck? Do you want it to be a personal jungle retrofit with trees and shrubs in terracotta pots, drenched in accent lighting? Or would you prefer a more subtle look with recessed lighting on the steps up to your beloved grill? There are so many options to choose from! Depending on how intense you would like to get with your deck lighting, you may need to upgrade your electrical panel.
Have the Experts Take a Look
Your vision deserves professional attention. A certified electrician will be able to give you tips and pointers on how best to set up your deck lighting. Additionally, they will be able to point out any potential hazards along the way, saving you time and money in the long run. If you don't remember the last time you had maintenance done on your outdoor lighting, this is the perfect time to do it!
Turn your springtime musings into a reality with excellent deck lighting. Looking for advice or installers? Call on the experts at 4 Star Electric Ltd today!