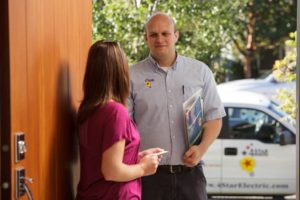 If you are browsing Google for an electrical contractor, the lists can become overwhelming. Here are a few questions you should be asking to help you narrow down your search and find the contractor that is the perfect fit for your project:
What do other people have to say?
Any company you look into will have some sort of rapport with their community. Now whether that rapport is good or bad is a very important factor you should be taking into consideration. If you are new to town or don't know anyone who's had electrical work done in the area, don't be afraid to bring your search online. Reputable review sites are a good place to explore. Consider aspects like the relevance, recency, and responsiveness of the reviews and the company.
What is in their portfolio?
Rewiring your home is going to be a much different project than installing a generator for your office building. Ensure than the contractor you are vetting have real life experience doing what you need done. Involved electrical work isn't something they should be cutting their teeth on. Take the time to review your own project and compare that against their experience. Don't be afraid to ask detailed questions about their portfolio. If a contractor is reputable, they will have no problem explaining these previous projects.
What kind of quote will they offer you?
Once you've started narrowing down your search, start collecting those quotes. You'll want a company that is flexible enough to work with you, but not so flexible that you can't trust the numbers they initially cited. If the cost is dirt cheap, there's probably a reason. If the cost is incredibly high, it's okay to be skeptical that it's not worth the price tag. Generally speaking, you'll want to find your personal sweet spot. What makes sense for your home or business to spend? Does the electrical contractor offer a guarantee on their work? How do they handle routine maintenance? These are all questions you will need to ask.
At the end of the day, you'll want to find an electrical contractor that you can work with in the long run. Electricity means electrical maintenance. No project will ever truly be "one-and-done" so take the time to get to know your prospective electrician. Looking for a quote? Contact the experts at 4 Star Electric Ltd. today!