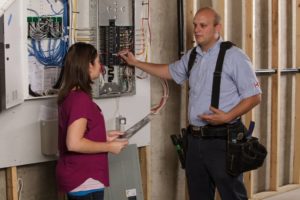 Whether your business requires a complete overhaul or a few simpler installations, don't take your chances with a DIY electrician. Sure, Steve from Accounting may have watched a few YouTube videos on electrical wiring, but that won't make him an expert. Here are a few reasons why you should call in licensed electricians for your electrical projects and leave Steve to crunching the numbers.
Certification and Expertise
While eager Steve may have watched a few hours of online videos, licensed electricians have gone through years of training to become certified. The term of apprenticeship for an electrician includes a minimum of 1500 hours of on-the-job training and 8 weeks of in-school training in each of the first three years, and a minimum of 1350 hours of on-the-job training and 12 weeks of technical training in the fourth year. During this time they are extensively instructed on safety and building codes. Hiring a certified electrician means that the job will be completed up to code without needing to be redone in the future.
Guarantees & Permits
Now this is a factor that even Steve can get behind. Licensed electricians will be able to offer some type of guarantee to pass inspections or warranty on their work. This means that you can rest easy knowing that you won't be wasting time or money trying to get quality work that will be acceptable for the building authorities. Keep in mind, too, that permits can only be obtained by licensed electricians. Bypassing this step could mean a large fine for your company. In addition, professionals are also insured, so your business is protected in case of damage or other undesirable circumstances. Add that all together, and a certified professional will really be saving your company a lot of money!
Safety First
Electrical work involves a certain amount of calculated risk. Because of this, electricians are trained on how to identify and assess all hazards present in a particular space. They learn how these hazards may affect a building's occupants and structure. If any issues crop up during the project, they are prepared to deal with them as they come in a safe and effective manner. Don't put Steve from Accounting in a position where he could get badly injured. Let the professionals do what they do best.
If you want to learn more about hiring a licensed electrician for commercial electrical services, contact the experts at 4-Star Electric!