If you have electrical work around your home that needs to be done, you may be tempted to find anyone who will do it for the lowest price. Unfortunately, this can put you, your loved ones, and your home at significant risk.
Any electrical work done at your home should be done by someone who has the proper credentials. You may need to do a little research to find someone in your area to do the work safely, correctly, and efficiently. So how do you know who to hire to do electrical work around your home?
The first step is to make sure you understand the difference between an electrician that is licensed and one that isn't. It may not seem like a significant difference at first, but the consequences that come with poor electrical work can cost you more money, time, and stress in the long run.
What Does a Licenced Electrician Do?
Licensed electricians are professionals who complete any electrical work commercially, industrially, or residentially. To be licensed, an electrician has to complete approved licensing programs and exams specific to the province they work in.
A licenced electrician may be responsible for:
Installing, repairing, & maintaining electrical systems
Calculating placement & testing electrical systems
Troubleshooting different types of electrical problems
Are All Electricians The Same?
Not all electricians are the same. In fact, there are several different types of licenses an electrician can get depending on their education, how many hours they've worked, and their specific set of skills.
Classifications of Electricians
The four classifications of electricians in Canada include:
Apprentice: These electricians are currently enrolled in training. They are in the process of completing in-class instruction as well as receiving real-world experience.
Journeyman: Once someone has been an electrician for 4 years, completed at least 6,120 hours of work experience, and 36 weeks of in-class training, they can become a certified journeyman.
Master: A journeyman can become a master electrician after 2 more years of work experience. A master electrician can obtain their work permits and train other electricians.
Red Seal: A red seal classification for electricians in Canada. Certification requirements vary from province to province, but obtaining a red seal allows licenced electricians to work in any province across Canada.
Requirements for Licenced Electrical Contractors
Because there is a risk with electrical work, every licenced electrical contractor is:
Required to be fully insured
Registered in each city / town they work in
Qualified to perform the electrical work you need
Able to provide references & proof of certification
These requirements help protect you and your home and ensure that your electrical work is done safely and correctly.
The Different Types of Electricians
No matter what certification a licenced electrician has, there are still certain specialty roles that they can fulfill. The four main types of electricians include:
Residential Electrician
Residential electricians are the electricians people hire to perform electrical work in their homes. They are responsible for repairing and updating any electrical systems within a home and making sure a home is electrically sound.
Industrial Electrician
Industrial electricians work with industrial equipment on a large scale. They are responsible for creating, maintaining, and repairing electrical components in industrial environments.
Commercial Electrician
Commercial electricians work in commercial settings such as small businesses, retail stores and other commercial locations. They are responsible for doing any electrical repairs and upkeep needed.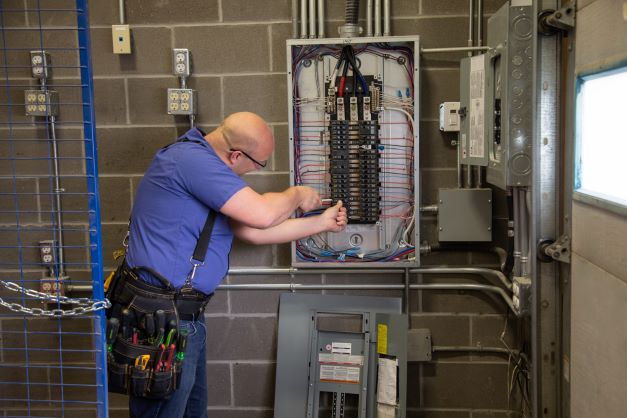 Why is it Important to Hire a Licenced Electrician?
Electrical work is dangerous and can be hazardous if it's done without proper training. It is crucial to hire a licenced electrician because:
They have the needed qualifications and expertise to do work safely
They will work within the permits which are legally required to do most electrical work
They are insured, protecting you if something unexpected happens
They will work according to the appropriate safety guidelines
You should always leave your electrical work to a licensed electrician, who has the expertise, equipment and training to do the job safely. Even if you know someone who can do it cheaper or quicker, you put yourself at great risk by doing so. Hiring an unlicensed electrician can result in property damage and can be very unsafe.
Get The Professional Help You Need
If you have electrical work that needs to be done in your home and need an expert electrician you can trust, book an appointment with 4-Star Electric today!